SORRY WE ARE CURRENTLY SOLD OUT!!!!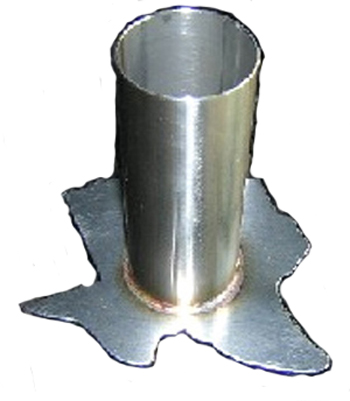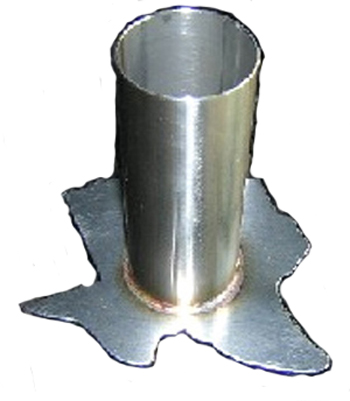 Welcome to the
Redleg Ranch!
What's Beer can chicken you ask?
It's all the rage across the USA!
Roasting a chicken over a beer can has become popular at barbecues from coast to coast . But keeping the bird from falling over and removing the can is challenging, plus you never know just where that beer can has been.
The Texas Chicken Tube gives you that beer can chicken flavor without the mess.
SORRY WE ARE CURRENTLY SOLD OUT!!!!
Gift for someone else?
We now offer Gift Wrap in the form of a custom sewn burlap sack.
Really gives your Texas Cooker that Southwestern look!
Even has a Texas style To/From tag.
What a great deal for only $2.00 extra!
Designed to replace the 'Beer Can' when cooking Beer Butt Chicken
(Because beer cans and the ink on them were not designed for cooking.)
Brand New and comes with cooking instructions & recipe.
Simply fill the tube with beer, apple juice, or wine and add your favorite spices.
Place chicken over tube and set on the grill or in the oven.
Works great on gas grill or Weber style charcoal grills.
Cooks moist flavorful chicken by steaming it from the inside out.
The large
TEXAS
shaped base keeps your bird from falling over while cooking.
Makes a great and unique gift!
Great for people on a low carb Atkins Diet.
Perfect for Tailgate Parties.
Dimensions: Approximately 6 inches x 6 inches x 6 inches
Made from high grade Stainless Steel & Welded to Last Forever.
Easy clean-up in the dishwasher.
American Made in Texas, USA.
Only $ ea. plus $6.00 S&H (in USA)
Buy One Now! Buy Two Now!
Pay only $2 shipping for each additional Texas Cooker
To order your Texas Chicken Cookers...
→ Click on the Shopping Cart to pay securely thru Pay-Pal.
We use Pay-Pal because it is the safest way for you to shop online.
(All your credit card information is handled by them, we never see it.)
All Major Credit Cards Accepted:

Comments from our satisfied customers:
"I've been cooking beer-in-the-butt chicken for 2-3 years. I've probably cooked 40-50 chickens, and none have tasted better (I dare say not even as good). I used your recipe......it was, to say the least, most excellent. Even my neighbors agreed it was the best I've ever cooked. Thank you very much from a very satisfied customer!!" Kevin (Plano -Texas)
"Well constructed design! I had one of those made in China wire beer can holders but it only lasted for a couple BBQ's. I love this thing and its so easy to clean up" James (Katy-Texas)
"Hey, I just tried the cooker I bought from you. Best chicken I ever tasted. I am looking to get 2 more chicken cookers" Don (Belgrade - Maine)
"Great BBQ item! Makes a great Xmas gift! A++ seller, shipped great! I bought 2!!" Damon (Los Gatos, CA)

The Texas Vertical Stainless Steel Beer Can Chicken Cooker Steamer Smoker Roaster works great on Weber style charcoal Grill or Charbroil style Gas Grills to make Drunk Chicken, Beer Butt Chicken, Drunken Chicken, and works on all small Poultry. Also makes a great BBQ Barbeque Barbecue gift basket accessory item for the BBQ pit master in your family.

Counter provided by Andale.